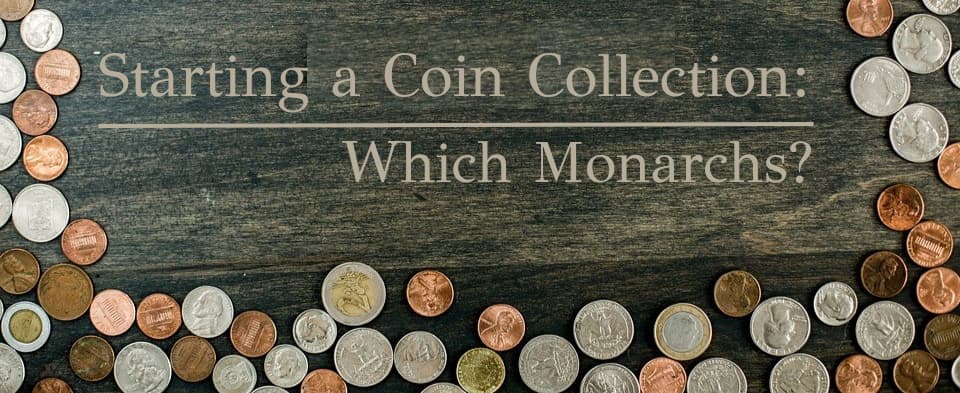 While it is such a rewarding hobby, starting a coin collection can be daunting for some, with the majority of people asking 'where do I start?'. If you are interested in historic or royal gold coins, then you have come to the right place. In this blog, we will be talking you through the best monarchs for you to look for when kickstarting your collection…
Elizabeth II has without a doubt the longest and most diverse series of coins in British history. This makes coins bearing her portrait the easiest and most sought-after coins to get hold of when starting your collection, as opposed to other monarchs. Throughout her reign, there have been five different portraits of her appearing on Britain's circulating coinage, as well as limited edition portraits appearing on commemorative coins.
Her Late Majesty's coinage has been present for 70 years, covering all sorts of significant events in British history. During this time, Britain has participated in some remarkable changes, with decimalisation, and the joining and departing of the European Union to name a few. Not just that, thanks to Elizabeth II's incredible milestone achievements, there are also many coins that have been released to celebrate events such as her Platinum Wedding Anniversary, four jubilee milestones, and her becoming Britain's oldest and longest reigning monarch.
The second longest-reigning monarch in British history, Queen Victoria, reigned for an impressive 63 years, thus making her coinage incredibly popular and sought-after. She presided over huge industrial change and expansion of the empire throughout her reign, and the gold sovereign was actually established during this time. Because of this, over 25% of the population used coins with Queen Victoria's portrait. However, there were only six coinage portraits of Queen Victoria produced despite this.
Victoria's first portrait, the 'Young Head' portrait by William Wyon, was so popular that it was used for 50 years, only amended a handful of times to reflect the Queen's age. During the 63 years, there was also the 'Una and the Lion', the 'Gothic/Godless', the 'Bun Head', the 'Jubilee Head' and the 'Old Head' portraits produced. Although some portraits are preferred to others, there are many commemorative and circulating coinage that you can use to start your coin collection.
George III lived and ruled longer than any other English or British king, and any coinage bearing his portrait is a fantastic way of starting a coin collection. During his reign, the 1800 Acts of Union created the United Kingdom of Great Britain and Ireland, thus making George the first monarch in the UK's history. There are a multitude of denominations available for George III, from guineas, crowns and sovereigns, to sixpences, halfpennies and shillings, all of which provide incredible historic value.
Following the financial turmoil that had accompanied the Napoleonic Wars, King George III decided upon a reform of the gold coinage. It was during the Great Recoinage of 1816 that the world's greatest coin, the modern sovereign, came into being. The new sovereign was the first modern coin of its kind and it was only struck between 1817 and 1820. This coin is one of the most important sovereigns and a must have in any coin collection because it's the first of its kind and the only sovereign to feature the particular St George and the Dragon rendition.
George VI
George VI could not have foreseen he would become King, but the shock abdication of his brother, Edward VIII, meant that George VI was forced to assume the role in 1936, reigning for a total 16 years. He proved popular amongst the public, ruling through the Second World War and becoming one of the more notable monarchs in modern British history.
As George's reign wasn't as long as other monarchs, there is limited coinage bearing his portrait available. Many of his gold coinage can be expensive and difficult to obtain, however, silver coins such as crowns and sixpences are accessible for collectors, allowing you to kickstart your collection easily. He also became the last emperor of India, therefore, any of his British India coinage are of increased interest to collectors.
George V is another monarch who could not have foreseen becoming King, but he became heir apparent when his elder brother died of pneumonia, ascending to the throne in 1910 after the passing of Edward VII. This strict disciplinarian and devoted husband went from a career in the navy, to becoming a father figure of the nation, leading Britain into the 20th century where the world would rapidly change.
Best known for being king during the First World War, George was overall a popular monarch and was responsible for creating the House of Windsor. Thanks to these important years in British and military history, coinage bearing George V's portrait are favourable in the collector's market, making them a popular choice for anyone starting their coin collection.
Edward VII
Although Edward VII only reigned for nine years, he was an extremely popular monarch within Britain and overseas. Before ascending to the throne, he had been next in line to the throne for 59 years, making him, at the time, the longest heir apparent in British history. This mark has now been surpassed by King Charles III. During his reign, the King had interests in military and naval matters, and in foreign affairs.
Edward made many visits abroad and became known as the 'Uncle of Europe' due to his relation to nearly every Continental sovereign. Although his reign was short, he is still considered one of the most popular monarchs in British history, therefore making his coinage significant to collectors. It is also important to note that because his reign was so short, there are fewer years of coinage, making it easier for you to collect them all.