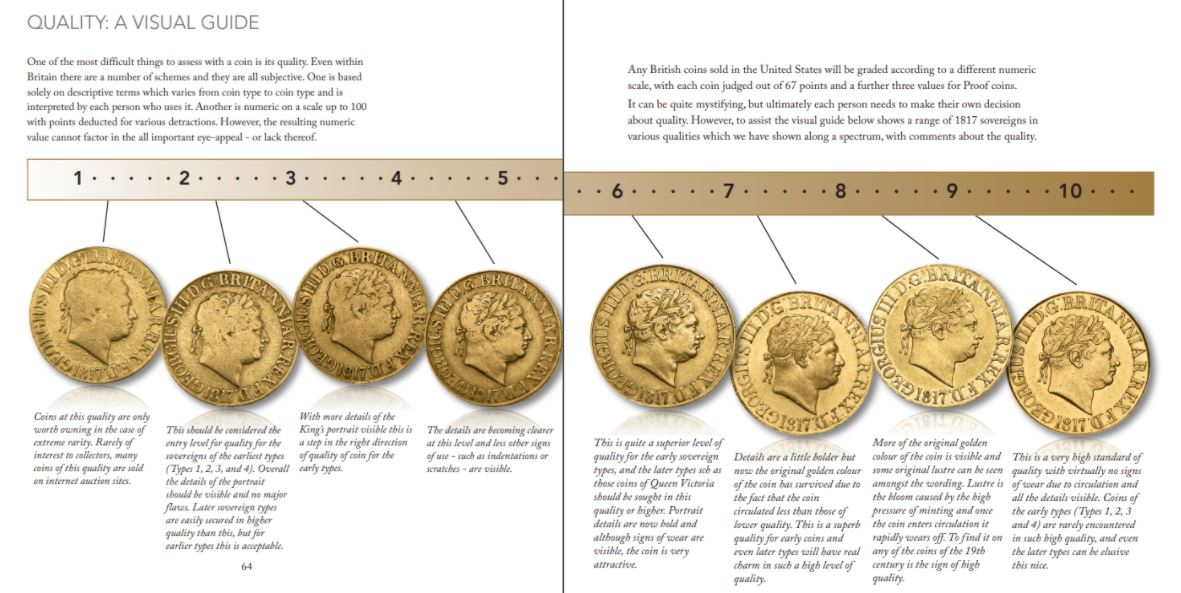 There are a number of coin grading scales to bear in mind when looking into coins and their condition. It can be very daunting and confusing if you are unsure what you are looking for, so we have broken it all down for you, from historical grading to the present day; UK and US.
In Britain, the original grading scale classed every coin as either 'Fine' or 'Extremely Fine' – these were the only options. As times changed, extra steps were added into that scheme: 'Good' and 'Very Good', both below Fine, and 'Very Fine', below Extremely Fine. That created five grading steps, which was even further expanded over time by dealers by adding 'Almost' or 'Good' to any of those grades, with 'Almost Fine' being less than Fine and 'Good Fine' being better than Fine, but less than 'Almost Very Fine'.
For over one hundred years this was the grading scheme in Europe, and it didn't include the grade 'Uncirculated', for the simple reason that it was considered that any coin that came from circulation couldn't be 'uncirculated'.
History of Grading
In the late 1940's, a grading scale emerged in the USA and this has been adopted by professional grading services PCGS and NGC in the USA. This is based on a total of 70 points, where points are deducted for each defect. This is called the Sheldon scale. It's growing in popularity in Europe, but the classical grading system about, including Fine and Very Fine, is still far more prevalent.
In the UK a service called the UKCGS created their own version of the Sheldon scale, where everything was assessed out of 100 points, making a much easier system overall. This service operated for a few years but eventually it could not match the head-start that the US services had.
In the 'world of coins' today we have many grading systems still in place. There's the US based services grading out of 70 points, we have coins still graded in the obsolete UKCGS 100 point scheme, we have companies who grade ONLY up to Extremely Fine, and we have others that grade up to Uncirculated.
Grading at Hattons of London
Hattons of London use a simpler 10-point grading system to indicate the overall condition of the coin you buy. This is to give the buyer an indication of the overall quality of the coin they will receive, and it correlates with our expectation of the availability of those coins. After all, every coin we offer is covered by our 60-day customer satisfaction guarantee, so you are able to view the actual coin rather than having to rely on a grade, before making your final decision.
Our grades equate roughly to 10% groups; a coin graded 10 out of 10 would be in the top 10% of those coins. So, our 1887 gold Double Sovereign graded 10 would equate to a coin in the range of 60-66 points out of 70 (the top grade for an 1887 £2 is 66 so the top 10% grade 60-66). And a key point to note, in the 70-point scale, every number from 60 to 70 is considered uncirculated.
This is the reason why we use a simpler scale that conveys the overall quality of the coin, so that our customers know they can expect a coin of a certain calibre. For example, a coin that is 8 out of 10, can be distinguished, from that that may be a 5 out of 10.
So, next time you are looking to purchase a coin, take a look into the grading and by following our guide, you should be able to determine the condition of the coin(s). Our Specialist Account Managers are also always on hand to provide further information if you require it, just call 1-866-213-5915 (toll free).