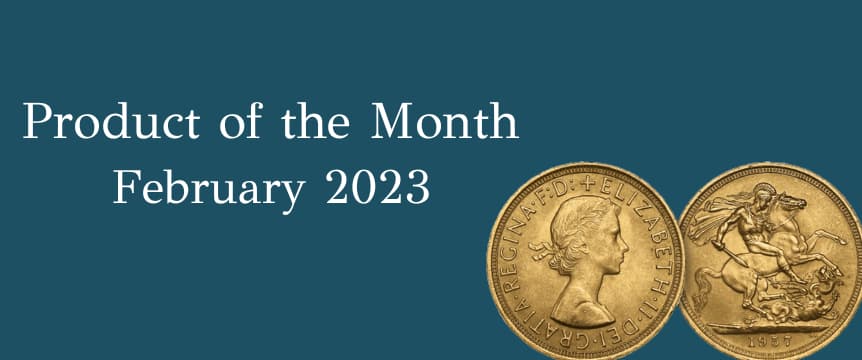 Featured as our Product of the Month for February, we have the beautiful Queen Elizabeth II Gold Sovereign of 1957; the first sovereign coin of Britain's most remarkable monarch…
When was Queen Elizabeth II's gold sovereign coin first minted?
In 1953, no gold coins were issued for Her Late Majesty's coronation, with the provisions of post-war austerity still in force. It was not until the year 1957 that the first gold sovereigns were struck with our new monarch's portrait.
The Queen Elizabeth II Gold Sovereign of 1957, struck primarily for sale into global gold bullion markets, features the coronation portrait of Her Late Majesty that appeared on her regular coinage since 1953 and would continue to be used until 1970. This portrait shows a youthful Queen with her hair tied in a fillet and wreath. It is said that the portrait, designed by Mary Gillick, was inspired by the first coinage portrait of Queen Victoria from over 100 years earlier.
The reverse design is the classic interpretation of St George slaying the dragon, created by brilliant young Italian engraver, Benedetto Pistrucci, for the first modern sovereigns of 1817. This beautiful design remains on our gold sovereigns today, almost 200 years later, making it one of the world's most widely recognised coin designs.
Why is this sovereign coin so important?
This gold sovereign coin is a type that was only issued for one year as it features a finely milled edge with 168 grains (ridges), whereas all other issues of Queen Elizabeth II have just 108 grains. Coupled with the fact that this is also the very first year of the Late Queen's gold sovereign, it is easy to see why this coin is so important and sought-after: it is a vital first year British gold sovereign issue. No Proofs were struck in this year, making the bullion striking the best quality available. The portrait is also of great collector interest as it is the only one of Her Late Majesty's portraits that shows her without a diadem or crown.
Struck in 22 carat gold and showing a bust of Her Late Majesty with her hair held in place by a chaplet of laurel leaves and tied with a ribbon, you can secure this remarkable sovereign coin HERE.