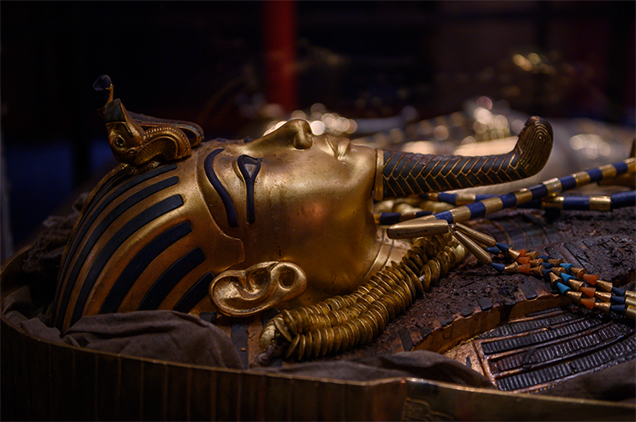 On 4th November 1922, the tomb of Tutankhamun was discovered, sparking quite simply one of the richest and most important archaeological discoveries of all time. For some 3,000 years, the burial site of the young Egyptian pharaoh had lain unknown until British archaeologist Howard Carter located it in the Valley of the Kings in Luxor.
Even today, a whole century after the discovery was made, the name 'Tutankhamun' is still associated with the riches of ancient Egypt, and Howard Carter must rank as the most famous archaeologist of all time. To celebrate the 100th year anniversary of this discovery, an important gold sovereign 'first' series has been released, simulating these gold treasures emerging from the dark. Introducing The 2022 Tutankhamun Discovery 100th Anniversary Gold Sovereign Range, and in particular, the quarter sovereign…

On 27th November 1922, Carter and Lord Carnarvon reached a second sealed doorway and held their breath as Carter made a small opening and peered into the darkness within. More chambers were discovered, and Tutankhamun's mummy was discovered in a gold coffin upon which rested the death mask of the young Pharaoh, the most famous of all Tutankhamun's treasures. A true wonder of ancient Egyptian craftsmanship weighing around 10kg, it was beaten from sheet gold and inlaid with semi-precious stones and coloured glass.
Each coin in this series features one of the priceless treasures of Tutankhamun's tomb, surrounded by deep black enamel, to simulate it emerging from the dark. The glossy finish of the black enamel is semi-transparent, enabling you to see the etched hieroglyphs in the background of each denomination. This is the first time ever that gold sovereign coins have featured a selectively enamelled design, and it is superb the way this recreates the excitement of the treasures being discovered. The genius behind this approach is renowned artist Matt Dent, designer of the current British circulating coins, 1p to 50p. Encircling each treasure are Howard Carter's own words of discovery; "Can you see anything?", "Yes, wonderful things" and "Everywhere the glint of gold" are featured on the quarter, half and full denominations.
For 70 years, The Late Queen's portrait has graced Britain's coinage. Five official effigies have been seen on circulating coins and now, with her sad passing in September this year, the last coins to bear her portrait have been struck. The commemorative gold sovereigns in this set are the last of their kind to feature Elizabeth II on the obverse side, the decision to sanction them for production having already been made prior to her death.
The quarter sovereign features the gold death mask of Tutankhamun surrounded by a rich black enamel finish to simulate the emergence of this treasure from the darkness of the tomb. You can purchase the quarter sovereign HERE, or alternatively, you can contact our sovereign experts on 1-866-213-5915 (toll-free).