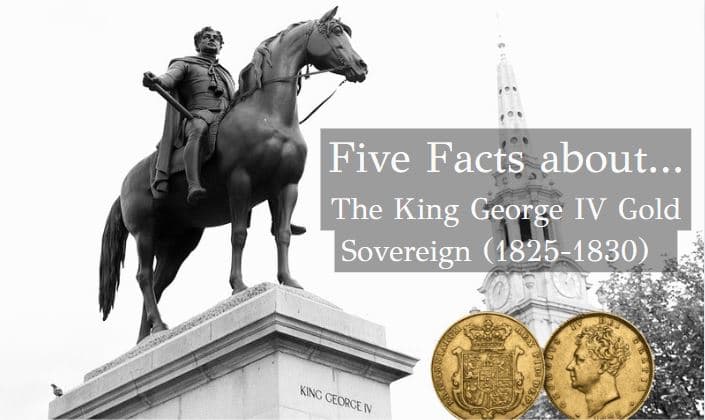 During the second instalment of the five facts about the Twelve Greatest Sovereigns blog series, we're looking at the King George IV Gold Sovereign of 1825-1830…
This sovereign featured a new portrait by William Wyon
King George IV had disliked the way Pistrucci had depicted him and in 1825 this led the king to insist that Pistrucci create a new portrait based on a marble bust by Sir Francis Chantrey.  Pistrucci, a tempestuous designer, was affronted at being asked to copy the work of another artist and refused, the task was then handed to an English designer, William Wyon.
The new portrait of King George IV was a success
William Wyon was in his ascendancy, and later proved to be possibly the finest British coin designer ever known. His portrait of George IV was a refreshingly modern interpretation, and omitted the laurel wreath, the first time since the Restoration that a British king had been depicted in this way.
The works of two designers featured on this sovereign
Wyon's portrait of the king is accompanied by a reverse design of the Royal Arms within a garnished shield created by a Frenchman, Jean Baptiste Merlen. The royal titles, which Pistrucci had removed just a few years earlier, were restored to the area around the outside of the shield.
The very first shield design sovereign
Due to the falling out between the king and Pistrucci, the St George design was removed from the coins of King George IV, having been introduced less than a decade earlier. These sovereigns were the very first to feature the Shield of the Royal Arms on the reverse. It was felt the shield was a more 'British' design motif.
It was only struck for six years.
There were only ever six years of gold sovereign issued with this portrait of the king. These constitute just 2% of the total number of British sovereigns minted, and are of great importance to collectors.