Description
World's first gold one-eighth sovereign coin ever to be minted with platinum gold
Many events are labelled 'historic'. Some happen once a decade, others maybe once a lifetime, others only once a century. This year we have witnessed an event that has never happened before, in the entirety of British history. In 2022, Queen Elizabeth II became the first British monarch ever to reach a Platinum Jubilee.
A Platinum Jubilee is a reign of 70 years, and what a reign it has been. Not only is Her Late Majesty the first to reach this milestone, making her our longest-reigning monarch, but she is also our oldest reigning monarch. She reigned through the Jet Age, the Space Age, the Computer Age, and into the Internet Age, and through all that time she managed her role as monarch and mother with style, grace, and compassion.
We have been a part of one of the biggest events in British history, an event that will not be repeated for at least a century, and quite possibly ever.
To commemorate an event of this magnitude, it requires a gold sovereign coin that will also 'stand the test of time'. Even putting to one side the significance of the event they celebrate; this is  amongst the most highly significant one-eighth sovereign coins ever released. It will stand apart in the same way Her Late Majesty's Platinum Jubilee did.
The most significant feature of this coin is that it is the world's first one-eighth sovereign coin ever to be minted with 'platinum-gold'; used in recognition of the Platinum Jubilee. It has been created by enriching solid 22-carat gold with two carats worth of platinum. This is the richest, most valuable gold alloy ever to be used in the production of sovereign coins!
Exceptional Platinum-Gold for a Platinum Jubilee Monarch
As a tribute to Her Late Majesty's 70 years of service, this new one eighth sovereign coin is produced from an exceptional blend of platinum and gold.
Traditionally, British sovereigns are minted at 22-carat gold purity – which is 91.67% pure. The remaining 8.33% is another metal, often Copper, which is added to the gold to give the coins strength. On a rare occasion for Queen Victoria's Jubilee in 1887, silver was used.
However, to create a coin that is incredibly special, this one-eighth sovereign for Her Late Majesty's Platinum Jubilee has been created with pure platinum as the metal that is added to the gold! Solid 22 carat gold is being enriched with two carats worth of platinum, which means each and every coin is made of 91.67% gold, plus 8.33% platinum – the richest, most valuable gold alloy that sovereigns have ever been minted from!
In the same way that this is the first Platinum Jubilee in history, so too is this the first platinum-gold one eighth sovereign coins in history
In addition to this world's first use of platinum-gold, this one-eighth sovereign features the royal cypher of Queen Elizabeth II with a celebratory garland of roses, thistles, leeks, and shamrocks to represent the nations of the United Kingdom.
SELL OUT GUARANTEE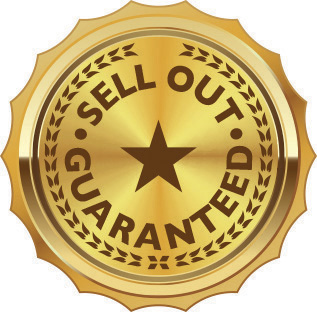 The 2022 Platinum Jubilee Monarch Platinum-Gold One-Eighth Sovereign is limited to just 5,999 coins, but this is subject to our new SELL OUT GUARANTEE. What this means is that availability of this coin will end on 30th April 2022. At that time, any coins that are unsold will be melted down and verified to that effect.
At that point, we will issue to owners of this coin a new certificate stating the final mintage which may be lower, or possibly considerably lower, than 5,999. If the mintage remains at 5,999 then this means the coins sold out entirely to keen customers, and if not you may have secured for yourself a low mintage rarity.
Either way, there will be little or no surplus of this coin on the secondary market and so the coin you own will be a rarity!
There is a limit of one coin per household.