Description
A tribute in gold to Her Late Majesty's father, and our nation's wartime monarch, King George VI
As we celebrate the Platinum Jubilee of our own Late Queen, it's worth remembering that this was sadly brought about by the death of her father, King George VI on 6th February 1952.  King George VI, previously know as Prince Albert, Duke of York, could not have foreseen he would become our monarch but the shock abdication of his brother, King Edward VIII, meant that 'Bertie' was forced to assume the role on 11th December 1936.
A modest man uncomfortable in the limelight, his pronounced stammer caused him great anxiety when called upon to speak publicly. He overcame these obstacles and became one of Britain's best-loved monarchs. He restored stability when faith in the monarchy was shaken by his brother's abdication and became an important symbolic leader, in close partnership with his wartime Prime Minister, Winston Churchill, as he guided the nation through the hardship of the Second World War.
The King's strong sense of solidarity with the people showed itself in his refusal to leave London during the Blitz, even after Buckingham Palace was bombed. Urged by advisers to leave for the safety of the Royal Family, Queen Elizabeth said at the time:
"The children will not leave unless I do. I shall not leave unless their father does, and the King will not leave the country in any circumstances, whatsoever."
Adored by his daughters Elizabeth and Margaret, the Royal Family had a close bond. As we rightly celebrated Queen Elizabeth II's Platinum Jubilee in 2022, we must never forget that, for Her Late Majesty, her accession to the throne meant the loss of her beloved father at a very young age.
An important gold sovereign 'first' pays tribute to this beloved monarch
With such a strong bond between the young Princess Elizabeth and her father, it is perhaps fitting that the 70th anniversary of his death be marked by a coin that features portraits of these two great monarchs on either side. This gold coin is the first sovereign ever to feature George VI and his daughter Elizabeth II on the same coin and are a way for us all to acknowledge his considerable legacy.
The profile portrait of King George VI gives this coin notable significance, and there is more about this below.
King George VI and Queen Elizabeth II – depicted on the two sides of sovereign coins for the first time ever!
There have been sovereigns of King George VI, and there have been sovereigns of Queen Elizabeth II – but never before have they been depicted on either side of the same coins! However, this is just one of the features that gives this coin its very broad appeal.
This coin will also be popular with royal portraiture collectors as the portrait of King George VI has been expertly created by Jody Clark, designer of the current coinage portrait of Queen Elizabeth II.
Avid collectors of gold sovereign coins will also be drawn to the quarter sovereign. This is a coin that was first minted in the year 2009 and so was never struck during King George VI's reign, meaning the 2022 King George VI Tribute Gold Quarter Sovereign is the first coin of its kind ever to feature a portrait of this king!
SELL OUT GUARANTEE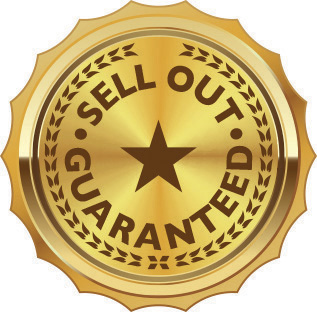 The 2022 King George VI Tribute Gold Quarter Sovereign is limited to just 999 coins, but this is subject to our new SELL OUT GUARANTEE. What this means is that availability of this coin will end on 31st May 2022. At that time, any coins that are unsold will be melted down and verified to that effect.
At that point, we will issue to owners of this coin a new certificate stating the final mintage which may be lower, or possibly considerably lower, than 999. If the mintage remains at 999 then this means the coins sold out entirely to keen customers, and if not you may have secured for yourself a low mintage rarity.
Either way, there will be little or no surplus of this coin on the secondary market and so the coin you own will be a rarity!
There is a limit of one coin per household at this introductory price.