Description
Not one, but two types of solid 22 carat gold used in these new St George and the Dragon sovereigns, struck to celebrate Queen Elizabeth II's Platinum Jubilee year.

Ask just about anyone in Britain, or indeed around the world, to describe a gold sovereign and chances are they will describe a gold coin with St George vanquishing the dragon. This mythical tale of good triumphing over evil has such a long and illustrious association with the gold sovereign that the two are almost synonymous.
Now, in 2022, the year of Queen Elizabeth II's Platinum Jubilee, a dynamic new rendition of St George slaying the dragon has been created and to elevate this new edition beyond those that have gone before, it is being struck – for the first time ever – in two types of solid 22 carat gold!
For the first time, solid 22 carat rose gold is combined with solid 22 carat yellow gold to create the world's first bi-metallic sovereign coins! Never before have sovereigns been struck using two different types of gold – these solid 22 carat gold coins are unique, a fitting world-first sovereign in an extraordinary year for Britain.
The first sovereign coins to be produced using TWO types of gold!
Sovereign coins are rarely produced using anything other than 22 carat yellow gold, but on rare occasions something truly special is authorised that causes an absolute buzz in the global collector market. We're already familiar with bi-metallic coins in circulation (Britain's £1 and £2 circulation coins are both bi-metallic) but these new commemorative sovereigns are the first time this technically demanding form of striking has been attempted with gold coins. With an outer ring of solid 22 carat rose gold containing the coin legend and an inner section containing the main design in solid 22 carat yellow gold, these coins are the first of their kind in the world, creating a series of sovereigns that stands apart from all others.
St George and the Dragon – a design classic reworked for the 21st century
These new coins are significant for reasons other than their unique composition of precious metals. They feature a modern interpretation of the story of St George and the dragon. The first time St George appeared on British sovereign coins was in the year 1817 and that early design was by the talented Italian engraver Benedetto Pistrucci. Since that, a select handful of designers have been invited to create their own interpretations. Now, it is the turn of artist Jody Clark, whose portrait of Queen Elizabeth II is used on Britain's current coinage, to re-imagine the mythical tale of battle between St George and his foe.
Jody Clark's striking new design takes its place in the esteemed history of the gold sovereign.
Authorised by Ascension Island and approved by the Foreign, Commonwealth and Development Office and Buckingham Palace, it is a wonderful tribute – and a world first one at that – the first sovereign coins to be produced using TWO types of gold!
Benefit from the SELL OUT GUARANTEE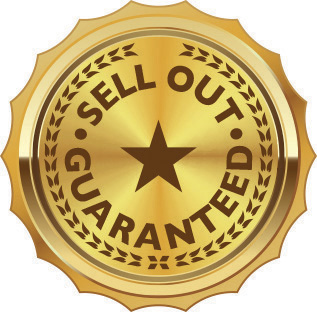 The 2022 St George and the Dragon Bi-Metallic Prestige Sovereign Set will not exceed 1,549 sets and is also subject to our new SELL OUT GUARANTEE. What this means is that availability of this set will end on 31st October 2022. At that time, any sets that are unsold will be melted down and verified to that effect.
At that point, we will issue to owners of this set a new certificate stating the final mintage which may be lower, or possibly considerably lower, than 1,549. If the mintage remains at 1,549 then this means the set sold out entirely to keen customers, and if not, you may have secured for yourself a low mintage rarity.
Either way, there will be little or no surplus of this set on the secondary market and so the set you own will be a rarity in the gold sovereign series.