Description
In Her Late Majesty's seventy years as monarch, her personal qualities of wisdom, strength, devotion and leadership made hers a reign without equal. Now her personal Graces are celebrated with first-of-a-kind gold sovereigns
An event of great magnitude happened this year as Queen Elizabeth II became the first in our history to celebrate seventy years as monarch. This is something no generation of Britons has ever before seen: a Platinum Jubilee!
We have already seen the release of a series of gold sovereign coins to celebrate Her Late Majesty's reign, and that series sold out faster than any before it, with not a single coin remaining. Having celebrated her reign, there is now a series that celebrates her greatest personal qualities, those that made her such an outstanding monarch.
This is a series that could have been released at any time, but it is especially fitting that it is released now, in her Platinum Jubilee year. Not only is she the first to reach this milestone, making her our longest reigning monarch, but she is also our oldest reigning monarch. She has reigned through the Jet Age, the Space Age, the Computer Age and into the Internet Age, and through all that time she managed her role as monarch and mother with style, grace and compassion. It's those personal qualities, which in classical times would be referred to as Her Majesty's Graces, that are the subject of a new first-of-a-kind series of gold sovereigns.
These coins are of great importance and here is a brief snapshot of their most important benefits:
They are the first sovereign coins ever to feature a special edge reeding pattern, each coin featuring precisely 70 edge reeds, or 'ridges' around the edge, in honour of the 70 years of Her Late Majesty's reign
The designs celebrate Her Majesty's Graces, her most enduring personal qualities, those that have made hers a reign of distinction.
The 'Graces' is an historic design created by the celebrated British designer William Wyon for King George III's long reign. These new designs for Queen Elizabeth II are by the 21st century's equal of Wyon, the acclaimed coin designer Jody Clark, creator of the current coinage portrait of Her Late Majesty.
The coins are struck in platinum-gold, which is created by enriching solid 22 carat gold with 2 carats-worth of platinum. This is the richest, most valuable 22 carat gold alloy ever to be used in the production of sovereign coins and it is being reserved for coins in this Platinum Jubilee year!
These coins are guaranteed to sell out, under the Sell Out Guarantee, ensuring no market surplus. The mintages are quite low anyway, but they are covered by a guarantee that ensures any coins NOT sold at the end of their availability will be melted down – creating even greater rarity for those coins that have been purchased!
The Four Graces of Queen Elizabeth II – in exceptional Platinum-Gold
Just in case the use of this coins' unique edge and exceptionally valuable metal isn't enough, there is a further important feature. The coins in this new sovereign series showcase exceptional artwork by Jody Clark, influenced by William Wyon's celebrated 19th century 'Three Graces' coin engraving for King George III.
Jody Clark, designer of the current portrait on British coinage, has created designs in neo-classical style that celebrate the personal virtues embodied by Her Majesty that made her seventy years as monarch so exceptional: Devotion, Strength, Wisdom and Leadership. These are the Four Graces of a 'new Elizabethan era'.
The importance of the designer, along with the significance of the design tradition it links with, ensure these coins will be sought after by collectors.
A reign of 70 years, celebrated by world-first sovereigns with 70 edge reeds
The new 2022 Her Majesty's Graces Platinum Jubilee Gold Sovereign Series will stand apart in the same way Her Late Majesty's reign now stands apart from all the British monarchs who have preceded her.
The most significant feature of these coins is that they are the world's first sovereign coins ever to be minted with 70 edge reeds, or 'ridges', creating a unique coin edge that honours Her Late Majesty's unprecedented 70-year reign. Gold sovereigns customarily have reeding around their entire outer edge which requires around 180-200 reeds – never before have they featured 70 edge reeds.
Not only that, but each coin in this series is made from platinum-gold, created by enriching solid 22 carat gold with 2 carats-worth of platinum. Traditionally, British sovereigns are minted at 22 carat gold purity – which is 91.67% purity. The remaining 8.33% is another metal, added to the gold to give the coins strength. Copper is usually used, and on a rare occasion for Queen Victoria's Jubilee in 1887 silver was also used.
Benefit from the SELL OUT GUARANTEE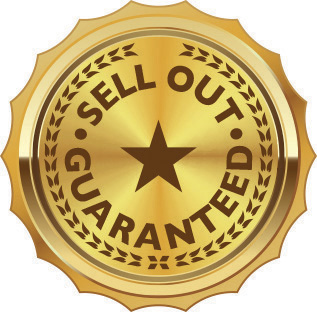 The 2022 Her Majesty's Graces Platinum Jubilee Prestige Sovereign Set will not exceed 1,599 sets and is also subject to our new SELL OUT GUARANTEE. What this means is that availability of this set will end on 30th June 2022. At that time, any sets that are unsold will be melted down and verified to that effect.
At that point, we will issue to owners of this set a new certificate stating the final mintage which may be lower, or possibly considerably lower, than 1,599. If the mintage remains at 1,599 then this means the set sold out entirely to keen customers, and if not, you may have secured for yourself a low mintage rarity.
Either way, there will be little or no surplus of this set on the secondary market and so the set you own will be a rarity in the gold sovereign series.