Description
MATCHING YEAR-DATE SET OF QUEEN VICTORIA'S LAST COINAGE – THE QUEEN VICTORIA VEILED PORTRAIT SILVER AND BRONZE SET
In 1893 a new portrait of Queen Victoria was introduced on British gold and silver coinage, being also used on the bronze coins from 1895. At the same time the designs of most of the silver coins were changed also, although Britannia retained her position on the bronze coins. The new portrait of Queen Victoria depicted her in a widow's veil – the only time in our history a monarch had been depicted this way – and as such it has become known as the Veiled Portrait. This was to be the final coinage of a monarch whose reign had rewritten history.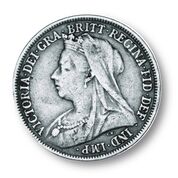 The portrait being replaced had been deeply unpopular, and not just with the public: internal documents at the Royal Mint record that even Queen Victoria had expressed her displeasure.
So after a closed competition between some of the most eminent artists and sculptors of the day, a new coinage emerged and the approval was almost universal: "Nothing of such excellence has been produced since… the time of Charles II" said The Standard.
This was the final coinage of Queen Victoria's reign – her death in 1901 brought it to an end just nine years after its introduction.
In historical terms this makes it one of the shorter lived portraits not only in Queen Victoria's reign, but in our entire coinage history. It's worth noting that the first portrait of her reign – the Young Portrait – was in use for 49 years!
Six silver coins and three bronze coins
There were six silver coins and three bronze coins being produced for everyday circulation in Britain at the time of the Veiled Portrait.  The three bronze coins were the penny,  halfpenny and farthing, all of which featured Britannia seated holding trident and shield.
The six silver coins – threepence, sixpence, shilling, florin (two shillings), halfcrown and crown – all featured different designs, although the shilling and florin came in for some criticism as the designs were considered by some to be too similar.
The crown, a hefty coin by any standards, was nearing the end of its career as a circulating coin – in fact, the Veiled Portrait crowns were the last series issued as part of a regular 'definitive' set of coins.
Hattons of London are pleased to be able to make available matching year-date sets in which all the coins bear the same year-date as each other. As the bronze coins only started to feature this portrait from 1895, the sets will be from one of the years in the range 1895 to 1901.
This set is comprised of all nine silver and bronze definitive coins, from the farthing right up to the large silver crown.
Each set comes with an informative Certificate of Authenticity and is housed in a luxurious presentation case befitting coins of such interest and historical significance.