Description
The 2019 Heroes of Gold Beach Gold Quarter Sovereign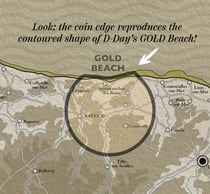 As a unique tribute to the landings on 'Gold' beach, the 2019 Heroes of Gold Beach Gold Quarter Sovereign coin has been specially minted with an edge sculpted to match the shape of the coastline at 'Gold' beach! Never before has there been a sovereign coin with a contoured edge. This means that, as well as the value of the gold within the coin, it will always be sought-after as the first of its kind.
It is this important combination of precious metal and collector values that makes this world first gold quarter sovereign such an attractive acquisition.
This coin is the first ever gold quarter sovereign with a contoured edge. Struck in solid 22 carat gold, the sovereign has been Britain's premier coin since it was first issued in 1817 in the reign of King George III. Although Britain no longer uses sovereign coins in everyday circulation, special commemorative issues are still struck to the same historic gold purity as they have always been, making this new gold sovereign part of that 200 year tradition.
One thing that has coin collectors and gold buyers around the world excited is that, to reflect the cooperation of British, US and Canadian troops on D-Day, these coins – remarkably – feature their face value in both 'sovereigns' and 'dollars'! Despite this, the mintage has been restricted to just 4,999 coins.
You could be one of the 4,999 lucky people who will own this important gold quarter sovereign, but you will need to act swiftly. Given it is the first of its kind, issued to commemorate the 75th anniversary of D-Day, and minted with a strict limit of only 4,999 coins worldwide, it is easy to see why it will be of considerable interest to collectors.